The Ford F-150 has been a go-to vehicle for truck drivers in Montclair and Little Falls, NJ for decades. It's not just because the F-150 delivers one of the market's most capable trucks. It's because the F-150 delivers options.
When you visit the sales team at Verner-Cadby Ford, you'll find a slew of Ford F-150 trims that can handle all your driving needs and more.
?
Ford F-150 XL: The base-level F-150 XL provides a no-frills driving experience and the F-150's least expensive package. If you just want a simple working truck with a solid V6 engine, the XL is for you.
Ford F-150 XLT: A tier above the Ford F-150 XL, the XLT comes equipped with the same 3.3-liter V6 but offers an otherwise more robust feature suite. Its media options alone include Ford's Sync 3 infotainment system with Apple CarPlay/Android.
Ford F-150 Lariat: The F-150 Lariat offers both an upgraded V6 engine or a powerful 5.0-liter V8. It likewise comes equipped with an upgraded Sync 3 infotainment suite and a range of other options geared toward comfort on the road.
Ford F-150 King Ranch: The F-150 King Ranch utilizes a standard V8 engine under the hood. Its impressive performance is only made better buy a robust selection of features. Built-in 4G Wi-Fi and built-in navigation headline a rich equipment suite.
Ford F-150 Raptor: Tweaked to deliver a superior off-roading experience, the F-150 Raptor provides higher ground clearance and the versatility you need to tackle all-terrain driving. This includes a powerful 3.5-liter EcoBoost V6 and superior traction controls.
Ford F-150 Platinum: Looking for a luxury-touched take on a premium half-ton truck? You'll find it in the F-150 Platinum. Powerful under then hood and packed with luxury amenities, it strikes a rare balance of refinement and top-tier ability.
Ford F-150 Limited: The Limited trim takes all of the best features available in the Ford F-150 lineup and blends them together to create of the richest truck experiences on the road.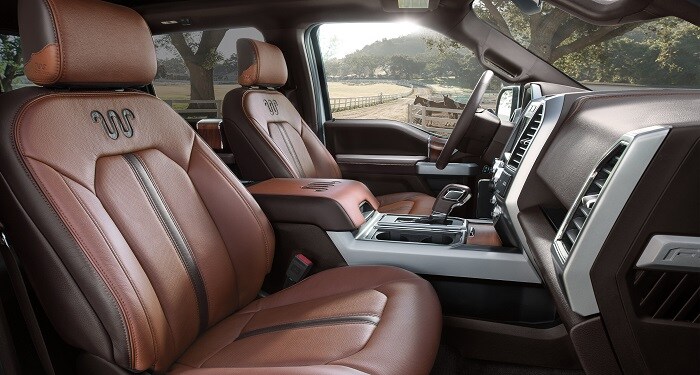 ?
No matter what kind of Ford F-150 experience you're interested in, you'll find the options you want at Verner-Cadby Ford. Located in Fairfield, NJ, our new Ford inventory serves drivers from Parsippany and West Orange to Wayne, NJ and more.