Keep Your Ford Running its Best with Parts from Our Fairfield Dealership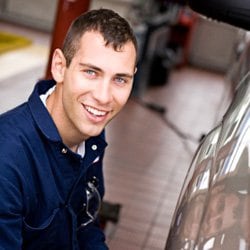 Keep Your Ford Running its Best with Parts from Our Fairfield Dealership
Many drivers think that replacing parts for their vehicle is difficult, but our team at Verner-Cadby Ford has made it easier for you. Our parts department near Montclair can help you find the right part that will get your car, truck, or SUV running its best, and all you need to do is reach out or use our website to get started.
The Benefits of Choosing Genuine Ford Parts
Other auto shops can supply you with aftermarket parts that might work for a little while but are usually less reliable or aren't a perfect fit for your vehicle. We go a different route, offering parts that are specifically designed for Ford models. Our auto parts near West Orange are sure to give you the best driving experience for any road.
Finding Parts is Easier Than Ever Before
Instead of needing to stop at many different shops to find what you need, you can just choose our dealership. You can use our online parts ordering form to let our team know what you are looking for, or you can plan a trip to our dealership from Wayne, NJ to find what you need. We are always happy to answer your questions so that you will feel confident as soon as you get back into your vehicle.
Contact Our Fairfield Ford Dealership to Learn More About Getting Genuine Ford Parts for Your Vehicle
Our team of experts is excited to hear from you so that we can find everything you need for the road ahead. We encourage you to take the short ride from Little Falls, NJ to our dealership so that we can get you moving towards the parts you need. If you don't feel like making the drive, you can order parts online and come pick them up as soon as we have them ready for you!